A new generation of fruit processing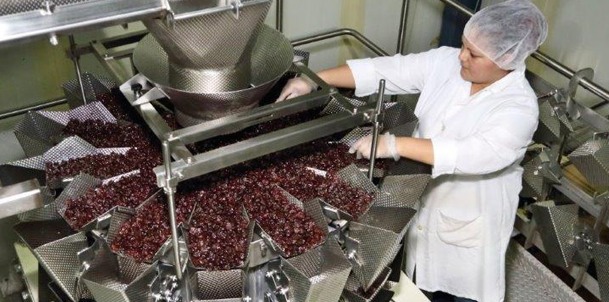 Since its founding, Royal Ridge Fruits has grown into a leading processor of premium quality frozen and dried fruit.  The company supplies global and regional manufacturers producing a wide range of foods, including ready-to-eat and hot cereal, granola bars, trail mixes, yogurt, pies and muffins.  Leading retailers rely on Royal Ridge to produce their valued packaged dried fruit store brands.
Royal Ridge has continued to expand its production and distribution capabilities to meet growing demand.  The plant-now 200,000 square feet-remains near the farm in central Washington State. Distribution centers in the Western and Eastern U.S. allow Royal Ridge to efficiently deliver complete orders on-time. Vertical integration-from farm to freezer-allows the company to produce premium quality processed fruit at a competitive price.
Product Quality
The company ensures product quality through skilled personnel, advanced equipment, and industry-leading quality control systems. Talented QA and Sanitation departments maintain rigorous GMP and HACCP standards. The R&D team is able to fine-tune outstanding products to meet the needs of current and new customers. Production equipment includes optical color and laser sorters, state-of-the-art pitting and freezing equipment, and custom-designed infusion and drying equipment.
Food Safety
The company adheres to rigorous food safety standards and industry certifications. Production has regular independent audits, USDA organic certification (Washington Department of Agriculture), and regular kosher inspections. All fruit is sourced from Dorsing Farms, or other valued growers and suppliers.
Featured Products

Premium Dried Fruits
Ingredients of choice for food manufacturers of ready-to-eat and hot cereals, granola, baked goods, fruit & nut bars, trail mixes, and other products.
READ MORE

Frozen Fruits
Our Individually Quick Frozen (IQF) tart cherries and blueberries are perfect for manufacturers producing fruit pies and muffins, dairy products, fruit smoothies and other foods and beverages that burst with fruit flavor!
READ MORE

Organic Fruits
Ingredient-of-choice for food manufacturers of certified organic read-to-eat and hot cereals, granola, baked goods, fruit & nut bars, trail mixes, and other products.
READ MORE