The Dried Fruit Experts and Preferred Supplier
for Private Label Dried Fruit & Custom Blends
PRODUCT SPECIFICATIONS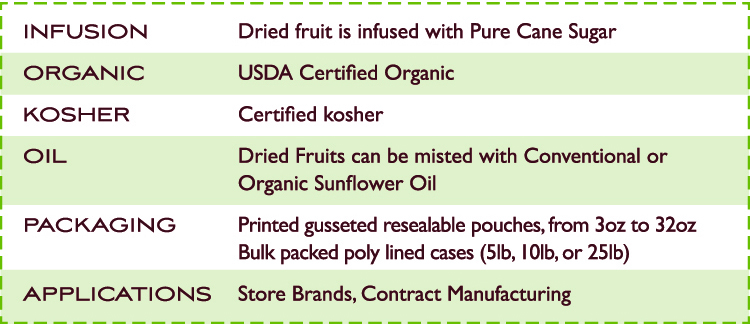 ROYAL RIDGE FRUITS
is a leading vertically –integrated North American grower and producer of premium frozen tart cherries.  The company is committed to industry leadership in (1) Product quality, (2) Food Safety, (3) Customer Service, and (4) Competitive Pricing.  Royal Ridge Fruits is committed to being the supplier-of-choice for North American and global retailers focused on expanding their store brand's customer loyalty and revenues through value-added products in visually-appealing, re-sealable packaging. All of the company's dried fruits are harvested at their peak for texture, flavor, and visual appeal and then air-dried.
Royal Ridge Fruits processes fruit in their 200,000 square foot facility near the cherry orchards of their sister company, Dorsing Farms, in the Columbia Basin of Central Washington State. The company has state-of-the-art equipment, including new optical color and laser sorters, custom-designed pitting and processing lines, high-speed packaging lines, and on-site freezing and frozen storage.  The company's R&D and Production teams are able to fine-tune products to meet specific customer needs, including developing dried fruit blends, and Marketing is able to support development of high-impact package graphics.
PRODUCT QUALITY
Royal Ridge ensures quality from the earliest stage in the production cycle-growing and sourcing premium fruit-through every stage of fruit processing and distribution. All fruit is sourced locally from Dorsing Farms or from a select group of trusted growers in the U.S. and Canada.